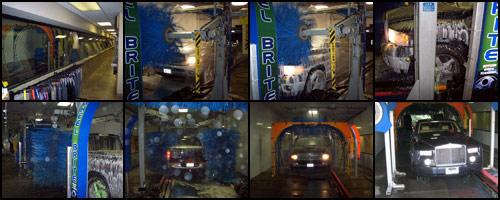 Extreme Wash Package
Complete Interior Wipe Down
Complete Interior Leather/Vinyl Conditioner & Protectant
Tire & Trim Shine
Air Freshener
Full Service Wash
Simoniz Hot Wax & Shine
Triple Foam Polish
Complete
Surface Protectant
Double Bond Teflon
Wheel Brightner
Undercarriage Wash
Rust Inhibitor
Tire Shine
Air Freshener
Full Service Wash
Triple Foam Polish
Complete
Surface Protectant
Double Bond Teflon
Wheel Brightner
Undercarriage Wash
Rust Inhibitor
Tire Shine
Air Freshener
Full Service Wash Plus
Triple Foam Polish
Undercarriage Wash
Rust Inhibitor
Wheel Brightner/Cleaner



Soft N Gentle Wash
Complete Interior Vacuum
Dash Board & Center Console Wiped
Windows Cleaned
Microfiber Towel Dry




Under Carriage Wash
This extra service is outstanding in helping to clean and protect the part of your car you never see...the undercarriage. Properly placed spray nozzles mounted on the floor of the car wash flush the underside of your vehicle with water, which removes salt and any other contaminants.
Rust Inhibutor
A rust inhibitor is specially formulated for the undercarriage of your vehicle and contains material which yields rust inhibition.
Wheel Brite
Produces a bright green foam that removes brake dust and the wheel cleaner leaves wheels clean and shiny.
Triple Foam Polish
Triple foam polish provides extra deep cleaning and shine. Triple foam polish is a combination of cleaning agents and silicone polymers, which are foamed onto your vehicle and buffed out in the wash process.
Double Bond Teflon
Simoniz® Double Bond™ is a film-forming sealant that cures as it dries on your vehicle. The next time it rains water will bead up and fall off like never before. Additional applications of Simoniz® Double Bond™ will only enhance durability.
Rain-X Complete Surface Protectant
Rain-X Online Protectant features Ecolab's most advanced polymer and protectant technology, including a special polymer formulation engineered to create a water repellant layer that chemically bonds to all exterior vehicle surfaces, then cures to the surfaces to provide better water beading and sheeting, longer lasting results and a safer driving experience.